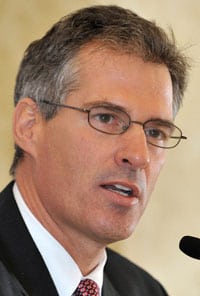 Mitt Romney never expected to win his adopted home state of Massachusetts in November, despite having briefly governed it. Still, the degree to which he's not-winning MA must be a little painful. Yesterday, the Republican Sen. Scott Brown — the former Cosmo centerfold who won Teddy Kennedy's seat in 2009, and who's currently locked in a hugely expensive, closely contested race with Democratic it-girl Elizabeth Warren — began airing television ads in which he touts a seeming endorsement, not from his own party's presidential nominee, but from President Barack Obama.
The New York Times reports that the ad shows Barack Obama complimenting Scott Brown on his championing of a bill to stop insider trading in Congress. "Good job," the president tells Brown. For some reason, the ad hasn't yet appeared on Brown's website.
From the Times:
… in this state, Mr. Obama is so popular that candidates from both parties are trying to hitch their wagons to his star.

That approach would be unusual enough for a Democrat in a year in which
many feel the need to distance themselves from the administration, but
it is virtually unfathomable for a Republican. That both candidates are
trying to leverage their ties to Mr. Obama underscores how popular the
president is here and how unpopular his rival, Mitt Romney, is, even
though he once served as the state's governor. Mr. Obama is expected to
carry Massachusetts overwhelmingly in November.
The Times reports that Brown has also aired ads touting his endorsement from various MA Democrats, including State Rep. Christopher G. Fallon.
Despite having on exactly one occasion praised Scott Brown, Barack Obama enthusiastically endorses his opponent, Mrs. Warren, who received a primetime speaking slot at last week's Democratic National Convention.