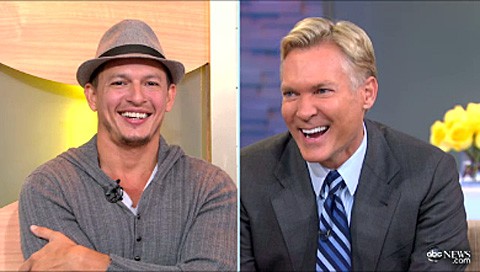 On this morning's Good Morning America, Sam Champion's fiancé Rubem Robierb waved from backstage as Champion was asked about the announcement late on Friday that he was engaged to be married.
"I have met the most wonderful, giving, loving, caring person. I am so, so lucky to have someone like this in my life," Champion said.
Champion said he has been overwhelmed by the outpouring of love and support — from social media to the streets of New York City. Robierb stood alongside off-camera at the "GMA" studio today as Champion talked about their happy news.
"I felt like we lived in a small town… I was born in Paducah, Kentucky, and to me that's exactly what it felt like. We walked out on the street and everyone was like, 'Hey, congratulations,'" Champion said. "Thank you for the tweets, and the Facebook and just coming up on the street and saying the most wonderful things."
Watch, AFTER THE JUMP...