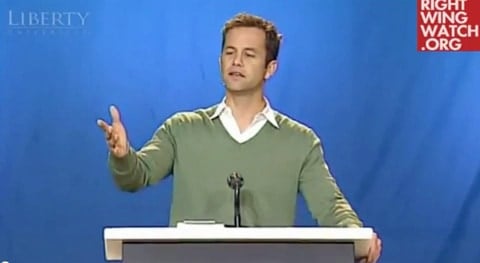 Kirk Cameron told Liberty University students last week to be brave and speak up when asked about their views on homosexuality and other topics, Right Wing Watch reports.
He said conservative Christians shouldn't be "wussing out" when confronted by questions about homosexuality should deliver a message of truth in love" in order to "see people in a right relationship with God, helped and healed and whole."
Cameron claimed he was "drug out to the public square and stoned so to speak" and "crucified" after he had "blasphemed the God of Political Correctness" by expressing his anti-gay views to Piers Morgan.
Watch, AFTER THE JUMP...