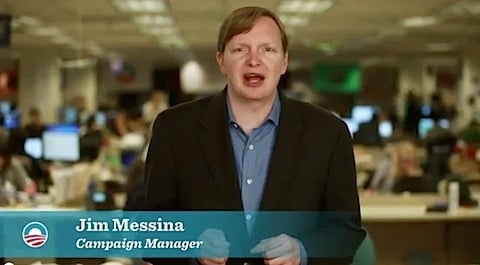 Obama campaign manager Jim Messina breaks down the state of the race in a new 'confidence' video:
In the key battleground of Ohio, Messina says in the video that early vote turnout in precincts that went for Obama in 2008 is higher than in precincts that went for Sen. John McCain. Republicans, however, say they're outpacing their 2008 early vote effort in Ohio, and predict their performance on Election Day itself will outweigh any Democratic lead in early ballots.

Messina goes through a list of the other key battlegrounds, citing similar early voting and ground game advantages in Iowa, Nevada, Florida, Colorado, Virginia, Wisconsin, North Carolina and New Hampshire.

He doesn't mention states where polls have suggested a tightening between Obama and Romney, including Minnesota and Pennsylvania – two states that seemed a sure thing for Democrats earlier this fall. The Obama campaign recently began airing ads in both states to counter commercials from Romney and his allies.
Watch, AFTER THE JUMP...
In other news, a round of polling from Quinnipiac University, the New York Times and CBS News is out this morning:
Obama is ahead of Romney, 50 percent to 45 percent, in Ohio. That's consistent with the 4- or 5-point lead Obama has held in most public polls over the last week.

In Florida, the race is Obama 48 percent, Romney 47 percent. The president is up 2 points in Virginia, 49 percent to Romney's 47 percent. That's also in line with other public polls we've seen showing those states pretty evenly divided, with Obama stronger in Virginia than in Florida.