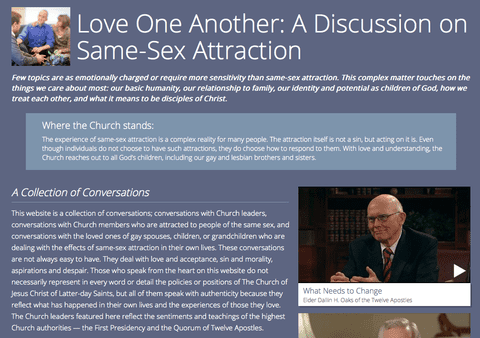 The Mormon Church today unveiled a website dedicated to starting a "discussion" on gays and lesbians within the church, or as they say, people with "same-sex attraction."
"When people have those (same-sex) desires and attractions, our attitude is, 'stay with us,'" Elder Todd Christofferson says in a video on the site, "Mormons and Gays."
"Here more than anywhere, it's important that there be love, that there be hope. We want to be with you and work together," explains Christofferson. But what he and his peers do not want is same-sex marriage or even same-sex sex.
"Though we don't know everything, we know enough to be able to say that same-sex attraction is not itself sin," he said. "The feeling, the desire is not classified the same as homosexual behavior itself."
Not surprisingly, the site features more than a few testimonials from people who claim to have "found" a heterosexual life after fighting those aforementioned same-sex attractions.
You can watch the church's official video introducing the site AFTER THE JUMP.