Dozens of Illinois business leaders and corporations are throwing their support behind a marriage equality bill expected to be addressed by the state legislature at the beginning of February, the Chicago Tribune reports: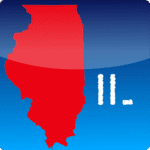 In addition to Google, Orbitz Worldwide and Groupon, individual signers of the letter include Desiree Rogers, CEO of Johnson Publishing Co.; Lance Chody, CEO of Garrett Popcorn Shops; Fred Eychaner, chairman of the Newsweb Corp.; and Laura Ricketts, co-owner of the Chicago Cubs. Eychaner and Ricketts are openly gay executives who are helping fund the statewide push for same-sex marriage, the Tribune has reported.
Read the full letter, AFTER THE JUMP...
Illinois Unites Business Support Letter by towleroad