Some people took Jodie Foster's suggestion at the Golden Globes that big changes were coming in her professional life to mean that the actress was retiring. She is not, she clarifies: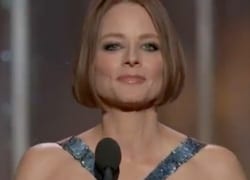 "No, I am not retiring," Foster clarified emphatically. "I could never stop acting. You'd have to drag me with wild horses."
Nor is Foster leaving the world of entertainment behind, saying that she in fact wants to do more directing.
"I'm actually more into it than I've been," Foster said of her desire to work in the business.
The point she meant to make in her speech, she explained, was that "my work is evolving."
"The speech kind of speaks for itself. It's a big, long career, and it's not just a career; it's friendships and relationships…I feel like I am graduating from something…And it's a big moment, and I wanted to say, you know, what's most in my heart…It's an expression of who I am and what I'm thinking and feeling."
Check out Foster's big speech HERE, if you missed it.