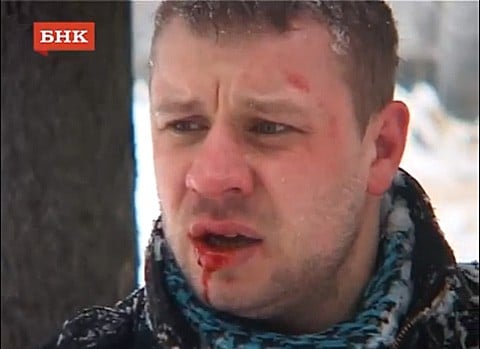 Artem Kalinin, a gay activist in Syktyvkar, the capital city of the Komi Republic in Russia, was beaten by the leader of a neo-Nazi group while journalists watched this week, hours after the city announced it was banning a Pride parade planned for March 31, Pink News reports:
In front of journalists – who caught the attack on camera – Alex Kolegov beat Kalinin. This worsened when gay activist Kalinin called Kolegov a 'Nazi.' However, Kalinin is not deterred by the attack. "This incident will not change my decision" said Kalinin. "We are going to hold pride in spite of everything."

He and several witnesses reported the attack and death threats, but the police made no arrest.

Nikolai Alekseev, co-founder of Moscow Pride and GayRussia, has condemned the attack:"This is another proof of full disregard of Russian authorities of the European Court verdict in the case of Moscow Prides by Russian authorities."
Watch video of the attack, AFTER THE JUMP...