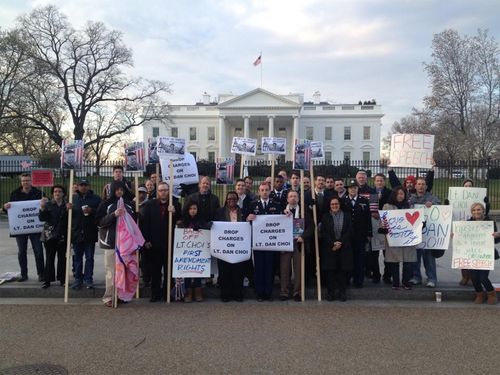 (image robin mcgehee facebook)
Powerful pictures from in front of the White House this morning as the 13 activists arrested on November 15, 2010 after chaining themselves to the White House fence in opposition of 'Don't Ask, Don't Tell' reunited in support of Lt. Dan Choi, who faces a judge this morning.
As I mentioned earlier this week, Choi faces 6 months in prison or a $5,000 fine for an obscure infraction of Parks and Wildlife federal regulations. The 12 other activists accepted a plea deal, agreeing to a guilty plea in federal court for which they would serve no jail time if not re-arrested within four months. Choi would not accept the deal.
Lt. Dan Choi,
Cpl. Evelyn Thomas,
Cadet Mara Boyd,
Michael Bedwell,
Scott Wooledge,
Staff Sgt. Miriam Ben-Shalom,
Sgt. Ian Finkenbinder,
Robin McGehee,
and Spc. Robert Smith are the 'White House 13' members pictured in these photos, posted to Facebook by McGehee, along with additional supporters. They then marched to an 8 am rally in front of the courthouse
Said Thomas when asked why she chose to attend Choi's trial, via press release:
"Dan is an honorable combat veteran who, when our nation came calling, stood the ground for many Americans, and not once did he ask them what was their ethnicity, race, socioeconomic status, or sexual orientation. I truly believe that he knows and practices that all humans are of value, and that all humans are made in the image of God. As a minister for the Century Project Veterans, I stand behind him as a person of God knowing that he exemplifies the true meaning of 'Love Thy Neighbor.'"