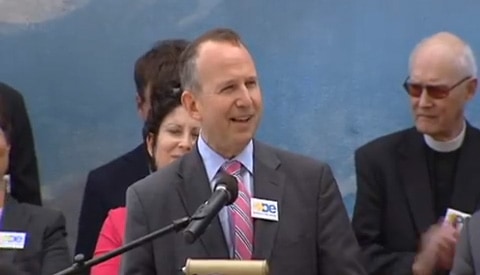 Yesterday I reported that Delaware's Governor Jack Markell was set to introduce a marriage equality bill, and he did, Reuters reports:
Markell, a Democrat, said in a telephone interview that while he was confident the bill would pass, given that his party controls both the upper and lower chambers of the legislature, "nothing is sure until it's done."

"What we know is same-sex couples want to get married for the same reason that other couples want to get married," Markell said in a telephone interview.

Markell announced the legislation at an afternoon press conference, where he was joined by state Senate President Pro Tempore Patricia Blevins, House Speaker Pete Schwartzkopf and Attorney General Beau Biden, Markell's office said.
Watch video of Markell introducing the bill and a few additional clips, AFTER THE JUMP...
Reports and interviews from the Delaware State News: