Brazilians, who have been taking to the streets in massive numbers in anti-governement protests, have been joined in part by an LGBT contingent protesting Brazilian Parliament's Commission for Human Rights President Marco Feliciano's proposal to lift a ban on gay conversion therapy, Euronews reports: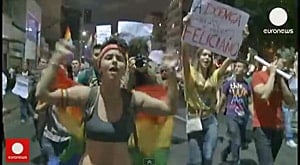 If passed the change in legislation would permit psychologists to treat "homosexuality" as an illness.

One teacher at a demonstration in Sao Paolo, Luis Eduardo, expressed his anger at the situation in the country: "All eyes are on Brazil at the moment because of the Confederations Cup so we need to take advantage of this opportunity. We're tired and we've had enough. We have corruption. Politicians are earning a lot of money while teachers are suffering in the schools. And now we have the Head of the Equality Body proposing a new law known as the "gay cure". It's ridiculous and we're here to protest against it."
Watch the Euronews report, AFTER THE JUMP...