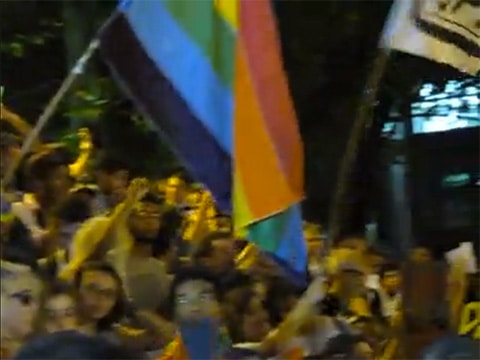 Pope Francis, who recently offered penitent Catholics time off from Purgatory in return for following him on Twitter, recently arrived in Brazil for a five day tour in celebration of World Youth Day, a pilgrimage of sorts for Catholic youth. However, not everyone was thrilled with the Pope's presence. As US News points out, "On Monday night, the Argentinian-born pope got a very different reception from young LGBT Brazilians, who staged a beijaco, or kiss-in, along the papal motorcade route." No doubt the Pope's ardent opposition to marriage equality has not sat well with LGBT activists in Brazil.
Far from being the only ones discontented by the Pope's visit, The Campaign for Brazilian Women has also organized an event they're calling a "SlutWalk" where protesters march in risque nun outfits. Said Rogeria Peixinho, an activist involved with the campaign, "We want to show that there's another youth and another way of thinking that is against oppression and the control of female sexuality." LGBT protesters have also planned another gay kiss-in for July 25 on Copacabana Beach to coincide with Pope Francis' speech, according to Pink News.
Watch a video via Facebook of the beijaco AFTER THE JUMP...