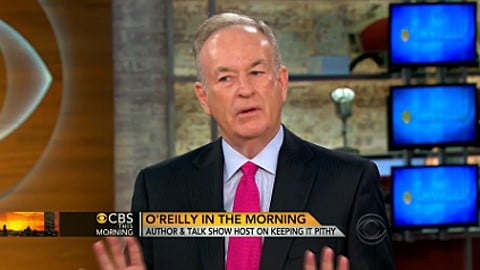 Bill O'Reilly is outraged that SCOTUS overturned Prop 8 and he doesn't "buy" that "homosexuals have a right to marry," he tells CBS This Morning:
"I was outraged that the people of California vote for traditional marriage and then the Supreme Court finds a loophole to overturn that vote. That's not what America's all about. I don't buy into the fact that homosexuals have a constitutional right to marry. I don't believe that. Because if that were true, then pluralists would, then Mormons could have more than one. You know, all of that. But I do respect the fact that gay people want to be treated the same as everybody else. I understand and I respect it, but I think the states should decide."
Watch, AFTER THE JUMP...