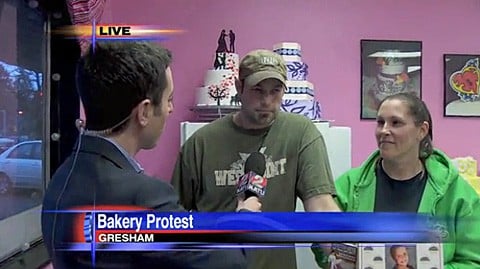 Sweet Cakes, the Oregon bakery which refused to bake a cake after they found out it was for a lesbian's wedding and has been the target of protests and an investigation by the state Bureau of Labor, has closed its doors, KOIN reports:
According to the "Sweet Cakes by Melissa" Facebook page, "This will be our last weekend at the shop; we are moving our business to an in-home bakery…"

On Aug. 14, Oregon's state Bureau of Labor and Industries reported its investigation to determine if Sweet Cakes' actions violated the Oregon Equality Act of 2007, which states that people cannot be denied service based on sexual orientation. The law provides an exemption for schools and religious groups, but not for private businesses, according to a BOLI news release.
Watch a news report on the closing, AFTER THE JUMP...
The baker affixed this sign to its door: "This fight is not over. We will continue to stand strong. Your Religious Freedom is becoming not Free anymore. This is ridiculous that we can not practice our faith. The LORD is good and we will continue to serve Him with all our heart. ♥"