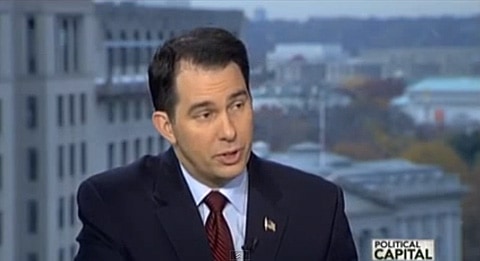 Wisconsin Governor Scott Walker spoke with Bloomberg TV host Al Hunt about LGBT rights in his state, specifically anti-discrimination laws. While Walker suggested he supported ENDA because anti-discrimination laws covering sexual orientation have worked "quite effectively" in his state, he also defended the state's ban on same-sex marriage, calling it part of a "healthy" system.
Said Walker: "In Wisconsin, we've had anti-discriminatory laws that are very similar to [ENDA] for more than 30 years and they work quite effectively. We're also a state that has a constitutional amendment that defines marriage as one man and one woman…I mean, we've not had problems. We've had no problems — I should say, limited problems — with [anti-discrimination laws]. At the same time, we still have a constitutional amendment that defines marriage. There's a healthy balance there.
Watch, AFTER THE JUMP...
(via think progress)