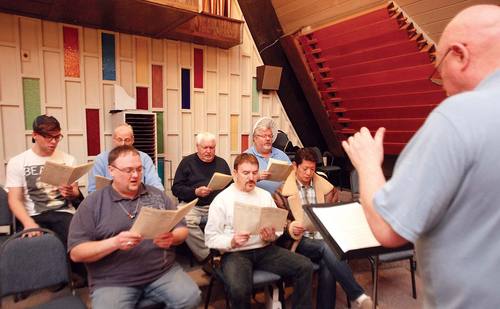 (image inforum)
A gay men's chorus of about 15 people has formed in Fargo, North Dakota, IN Forum reports:
"Gay men have been singing forever," chuckles Jon Landre, the director of the chorus. "Consider this. If all gay men were immediately visible, if we pulled out of all the choral programs in the churches, do you know how dead those programs would be?"
The chorus started just a few months ago and hasn't performed in public yet. So it's in the same state as the first gay men's chorus was when it got its start in 1978 in San Francisco.
The Fargo-Moorhead chorus has much greater geographical challenges than the one in San Francisco, however:
Fargo and the surrounding region are far more conservative than cities like San Francisco or Minneapolis. One member from Valley City, for instance, isn't out in his home community, Landre said.
"He'll have to deal with that," Landre said. "We all decide on our level of comfort."
Some gay choruses have opened their ranks to both women and straight men, something Landre said the Fargo-Moorhead troupe is considering. But as chorus member Seth Meyer points out: If a man sings in a gay men's chorus, people are going to assume he's gay.
That's fine with Meyer, a 19-year-old senior in mathematics at Minnesota State University Moorhead. He came out last year after a five-year struggle and an eventual break from his Mormon upbringing. He thinks the experience of performing in the chorus could be valuable for closeted members.
Good luck to these men.