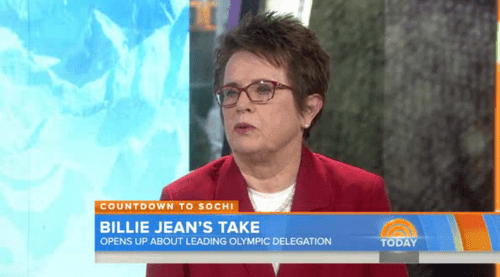 Tennis legend Billie Jean King, who will be one of three openly gay U.S. delegates to the upcoming Sochi Games, stopped by The Today Show to discuss her thoughts on the added safety/security precautions underway in Russia as well as what it means for openly gay athletes to represent the U.S. presidential delegation.
Said King:
"When we step off the plane we are part of America. We are what an America looks like. So I think President Obama has done an amazing job on promoting diversity and inclusion. He has been the all-time president for doing that. And he's showing the Russians, 'Listen everybody belongs in the United States of America.'"
She goes on to discuss what a protest of Russia's anti-gay laws may look like while at Sochi.
Watch, AFTER THE JUMP...
Visit NBCNews.com for breaking news, world news, and news about the economy