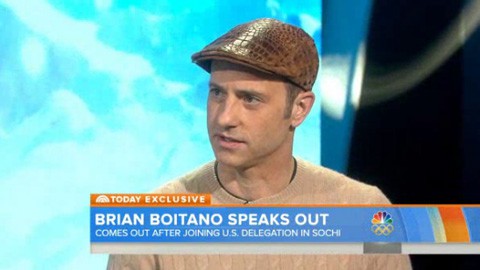 Figure skater Brian Boitano spoke Thursday for the first time about his coming out with Matt Lauer on Today, telling Lauer that his decision was prompted by Obama's strong message in sending gays with the delegation.
"When the president named the delegation, and I read in the news what his message was of tolerance and diversity, I thought, I have to take this opportunity. I think the message is so strong. I've always wanted to represent my country as best I could, and I knew that I had to go past my comfort zone and reveal a private side of my life that I've never done before because I felt that the message is so strong."
Boitano said that he didn't think he would go further with any outward protest of Russia's anti-gay laws at Sochi but it was up to each participant to decide:
"I think that we have to be careful once we go over there. I think the statement is already being made by us being on the delegation and Billie Jean and Caitlin, and us standing together united as gay people showing that there is freedom of speech, and we are successful human beings and athletes. I think that speaks measures...I encourage everybody to do what they feel is best for themselves. I never thought that I would be coming out in this way, and in a matter of 10 hours, I decided to do it. That was what was right for me at this time, so I tell everybody that I think that they should do what's right for them at their correct time."
He also spoke about how coming out has affected him personally:
"I've always been a private person. I've kept the private side of my life special for family and friends who really knew me. I've never been ashamed of who I was. I've always been open with them, so I really didn't feel that there was a need. I'm just a private guy, and I realize that there's a public side of my life and a private side. I've always chosen to keep my sexuality private."
Watch, AFTER THE JUMP...
Visit NBCNews.com for breaking news, world news, and news about the economy