New Jersey Governor Chris Christie has some fresh issues to deal with this morning, CNN reports: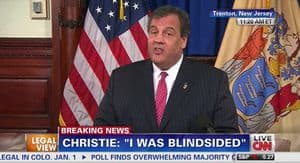 CNN has learned that federal officials are investigating whether Christie improperly used those relief funds to produce tourism ads that starred him and his family.
The news couldn't come at a worse time for the scandal-plagued Republican, who is facing two probes into whether his staff tied up traffic near the country's busiest bridge to punish a Democratic mayor who refused to endorse his successful re-election bid.
If the Sandy inquiry finds any wrongdoing, it could prove even more damaging to Christie's national ambitions. His performance during and after the superstorm has been widely praised and is a fundamental part of his straight-shooting political brand.
In the new probe, federal auditors will examine New Jersey's use of $25 million in Sandy relief funds for a marketing campaign to promote tourism at the Jersey Shore after Sandy decimated the state's coastline in late 2012, New Jersey Democratic Rep. Frank Pallone told CNN
Meanwhile, on FOX News Sunday, Karl Rove told a panel that he believes the way Christie handled #BridgeGate gives the governor some "street cred" with Tea Party folks.
Watch, AFTER THE JUMP...