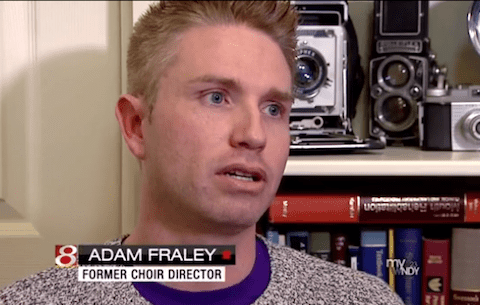 The laws for the United Methodist Church say that gay men and women are welcomed and are allowed to be members of the church; however, they are forbidden from having any sort of leadership position. This was the rationale used when the United Methodist Church in Alexandria, Indiana chose to not re-hire choral director Adam Fraley, who was driven from his position by a new minister after six years of service to the church.
The decision to not re-hire was apparently made by interim minister David Mantor, and when David Steele, who worked as an intermediary between the congregation and the minister, supported Fraley, Mantor told Steele he could no longer serve the church. This decision was upheld by the district superintendent who said Steele was neglecting his duty for not supporting the decisions of the minister and fired him. Said Steele of Mantor's decisions:
It's almost like he's hijacked the church. He is completely going against what the church body wants.
The church body supports Steele's assertion as 80% of the congregation chose to stop attending over how Fraley was treated. The former members have rallied around Fraley and his partner with support.
You can see a video interview with Fraley and Steele AFTER THE JUMP...