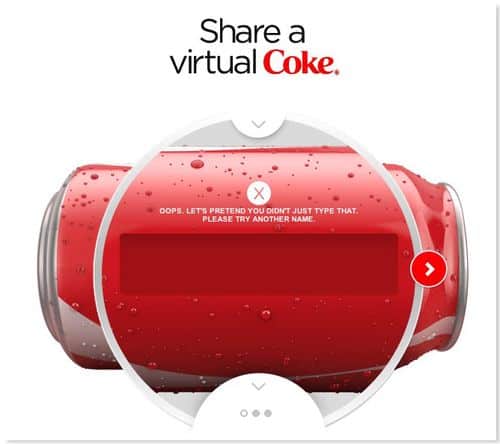 Add this to the growing column of Coca-Cola sponsored LGBT censorship stories…
Americablog points out a disturbing discovery on Coke's social media campaign, "Share a Coke," which allows users to enter text on a virtual can of Coke.
Apparently, the site has no problem with you entering the word "straight" on the can. Enter the word "gay," however, and you get the following message:
"Oops. Let's pretend you didn't just type that."
Watch a video of the censorship, AFTER THE JUMP…
Coca-Cola has faced a string of bad PR in recent months for its involvement in numerous examples of LGBT censorship across the globe. The beverage company, which has remained steadfast in its refusal to denounce Russia's anti-gay propaganda ban, issued a statement last week defending the arrest of a gay Russian human rights advocate who waved a rainbow flag during the Olympic torch relay.
Coke also removed a gay marriage scene from an Irish TV advertisement late last month.