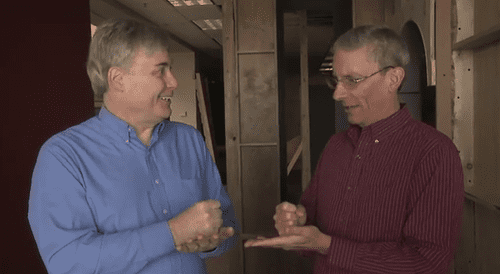 In a new video, Focus on the Family's CitizenLink host Stuart Shepard explains how when there's a "tie" between Christians and other protected classes, the Christians always "lose."
Shepard uses the example of the Oregon bakery owners who were found guilty of unlawfully discriminating against a gay couple when they cited their religious beliefs in their refusal to bake a wedding cake for said couple.
Watch, AFTER THE JUMP…
ThinkProgress breaks down Shepard's faulty logic:
Shepard is right that religion is a protected class in Oregon, but he's wrong about what that entitles Christians to. Oregon's law applies only in specific contexts, such as employment, housing, and public accommodations — the latter being the relevant one to the bakery. A public store-front business is a public accommodation, and so it is illegal to provide wedding cakes to straight couples and not to gay couples. Similarly, it would be illegal to provide wedding cakes to Jewish couples and not Christian couples, and in such a case, the Christian couple would be protected by the same law. Therefore, both classes are protected equally. There is no protection in the law related to how to run a business.
Earlier this month, FotF began a new evangelical campaign with the message that gays are made in the image of God and therefore deserve respect. Apparently that "respect" just doesn't include employment, housing, and public accommodations protections…