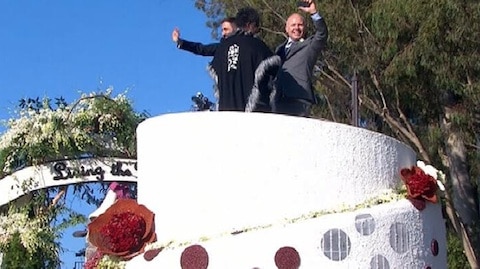 (image nbcla twitter)
Danny Leclair, 45, and Aubrey Loots, 42, a gay Los Angeles couple of 12 years, were married atop a float in Pasadena's Tournament of Roses Parade today sponsored by the AIDS Healthcare Foundation and intended to mark the first New Year's Day that same-sex marriage is legal in California and the role that marriage can play in helping to reduce new HIV infections among gay men, according to an AHF official.
Reuters reports:
Joining the couple for the parade will be a lesbian minister performing the ceremony and a lesbian couple, Sharon Raphael and Mina Meyer, who have been together 42 years and were legally married in California in 2008, Kenslea said.

He said the group planned to time the ceremony to be conducted at about 9:45 a.m. local time during the 15-second window during which that float is expected to pass before television cameras during the live parade broadcast.

Loots, who is originally from South Africa, and LeClair, a native of Canada, met at a Los Angeles nightclub and originally had planned for a relatively low-key wedding until the opportunity to exchange vows in the Rose Parade surfaced.
The marriage drew objections from some conservatives.
Watch an interview with the couple that aired on CNN yesterday, AFTER THE JUMP...