10 Flight Attendants (Carlos Areces, Raul Arevelo, and Javier Camara) I'M SO EXCITED
I seem to be alone in this but I found Pedro Almodóvar's latest, while totally disposable and seemingly filmed in a day, to be good camp fun. The highlight is when the drugged up, blowjob wielding flight attendants distract the passengers with a fully choreographed number to the titular Pointer Sisters classic. [REVIEWED]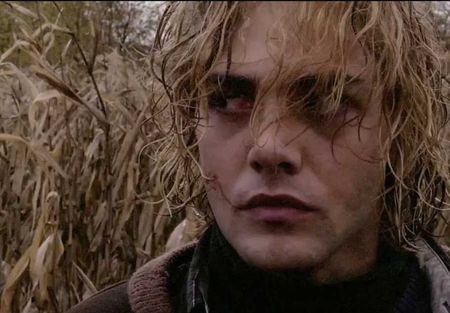 09 Benda (Jirí Cerny) in HONEYMOON
08 Tom (Xavier Dolan) in TOM AT THE FARM
If you've never heard of these films, that's okay. Such is the state of specialty distribution that even quality movies with saleable elements aren't pounced on. Both of these dramatic thrillers deal with homophobia and are cleverly contextualized within universal communal experiences: weddings and funerals. Benda and Tom are initially friendly and accomodating guys but eventually they get angry and psychologically slippery as they become entangled with their lost loved one's family and friends. Honeymoon isn't likely to find distribution (it's from the Czech Republic) but maybe it'll turn up on DVD? Dolan's movies eventually find their way to movie theaters but why does it take so damn long when they're so good? [REVIEWED]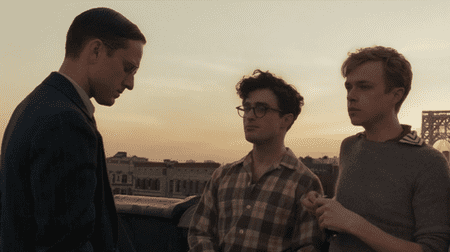 07 Everyone (kind of) in KILL YOUR DARLINGS
Speaking of homophobia… it's internalized in this beat-poet era directorial feature debut from John Krokidas. Unfortunately the internalized self-loathing is externalized manifest in the films opening act with the true life "honor slaying" of a gay man David Kammerer (Michael C Hall) who is hopelessly in love with his killer Lucien Carr (Dane DeHaan) who is also hopelessly loved by future iconic poet Allen Ginsberg (Daniel Radcliffe). DeHaan and Radcliffe, two of Hollywood's favorite young actors, are obviously game for the gay content (finger sucking for the win!) but the most moving moment is an unexpectedly subtle one when author William Burroughs (Ben Foster, terrific as usual) attempts to talk his defiant friend Kammerer out of his embarassing public declarations of love for callow Lucien.
"Traitor!"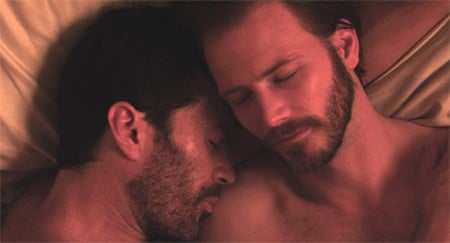 06 Gabe (Bill Heck) in PIT STOP
05 Franck (Pierre delachomps) in STRANGER BY THE LAKE
What's that country song? "Looking for love in all the wrong places ♫" These two films aren't remotely comparable – apologies! One is a quiet observational ensemble drama about singles (most of them gay) in rural Texas and the other a dark allegorical thriller about a young man who falls hard (on his back) for a serial killer, but both of the lead characters are beautifully played by their beautiful leading men. Gabe is ready for true love. Franck is just ready. [PIT STOP INTERVIEW]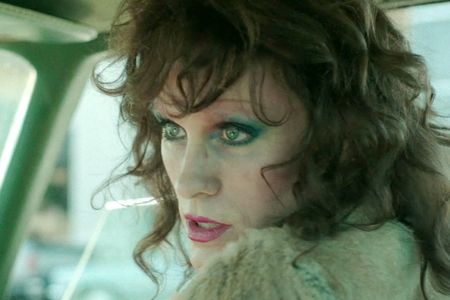 04 Rayon (Jared Leto) in DALLAS BUYERS CLUB
This movie has come under attack for handing what's been, cinematically, a "gay narrative" to a straight man, as well as casting a non-trans actor as a trans character. These are touchy complicated topics and its easy to see why people get pressed. But I can't with demanding a world in which actors can only play what they actually are. There goes at least 75% of the most brilliant performances ever committed to film, you know? The best actors are chameleons. What matters is the result and Jared Leto does beautiful work here, capturing this character's wit, physicality, addictions, and scars.  [READ THE FULL INTERVIEW]
03 Elsa (Idina Menzel) in FROZEN
If you deliver a huge bombastic instant classic Coming-Out anthem, you deserve a place on the list.
The wind is howling like this swirling storm inside
Couldn't keep it in; Heaven knows I tried

Don't let them in, don't let them see
Be the good girl you always have to be
Conceal, don't feel, don't let them know
Well now they know

Let it go, let it go
Can't hold it back any more
Let it go, let it go
Turn away and slam the door
That (closet) door isn't just slammed, it's obliterated, crushed under the weight of the fabulous ice castle that rises up, proud and glittery, to replace it.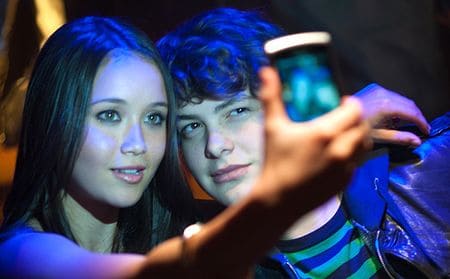 02 Marc (Israel Broussard) in THE BLING RING
Several 2013 movies satirized or dramatized perverse capitalistic abandon. This is one of them, but The Bling Ring, for all of its purposefully brain dead label-hoarding / celebrity-dropping, is the one that lingers. That's thanks to Sofia Coppola's visual gifts and an amazing young cast. Best in show is Broussard as Marc, the only lost boy in this girly club o' thieves. His gayness is not directly discussed but he is. Everyone knows it. No one cares. Progress! Bonus points: that webcam scene.
01 Adèle (Adèle Exarchopoulus) and Emma (Léa Seydoux) in BLUE IS THE WARMEST COLOR
On January 16th, the Academy of Motion Picture Arts and Sciences will undoubtedly kill many movie-loving dreams of seeing both of these terrific actresses nominated for Oscars for their gorgeously rendered depiction of first love and intense lust (just know that most of the future nominees don't dig half this deep). But, no matter, this love story between a blue haired artist (Emma) and her high school girl (Adele) will live on as a seminal moment in gay cinema. [REVIEWED]
HAPPY NEW YEAR!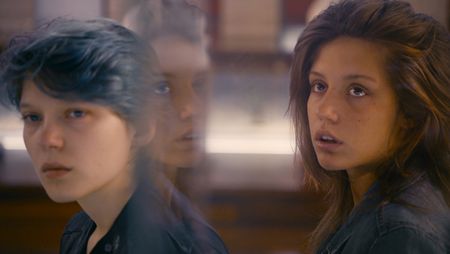 Nathaniel Rogers would live in a movie theater but for the poor internet reception. Follow him on Twitter @nathanielr.