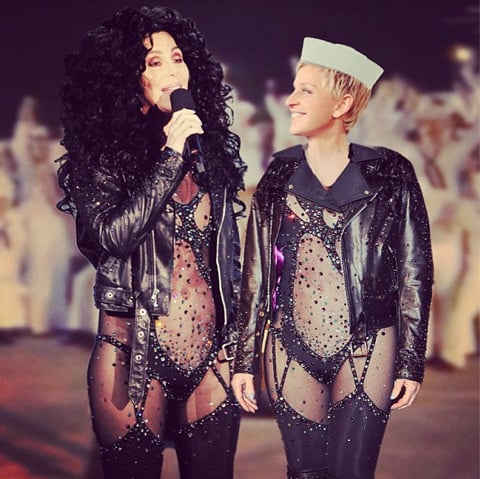 The phrase "gay icon" gets tossed around a lot, but what does that really mean? Welcome to Gay Iconography, a new feature where we present a proposed iconic figure or character and then ask you to weigh in with your thoughts. 
I started thinking about this feature back in June last year when I first read that Cher would be headlining New York City's Pride Dance On the Pier. Now, while of course I appreciated Cher and could easily sing along to many of her hits, I didn't really consider myself a "Cher person," per se. I didn't own any albums, I couldn't recite her IMDB page from memory and I can barely do a decent approximation of that thing she does with her tongue.
Still, Cher performing on the pier called to me like a big, gay siren song. I couldn't resist the urge to buy tickets. Of course I wouldn't pass up the opportunity to see an icon, especially surrounded by my people.
That's what got me thinking. What is it about these (mostly straight, mostly white) female figures that resonates so strongly with gay men? It's obvious why we would laud figures like Harvey Milk and Bayard Rustin; it's less immediately clear why we gravitate toward the likes of Cher, Bette and Barbra. Then there's a whole slew of people who don't necessarily fit the same Judy/Liza/Cher mold, but are adored by the gay community anyway. Who gets to decide the definition of gay icon?
Well, we do. After all, our interest in these people says just as much (if not more) about us than it does about them. These are conversation starters, and it's been amazing to see some really interesting discussion take place in the comments.
So, in that spirit, let's start the new year talking about the one who first inspired this feature, someone that Liza Minnelli once said was a bigger icon than Barbra Streisand and herself. Let's talk about Cher.
Get in the spirit with just a few Cher clips, AFTER THE JUMP ...
One attribute regularly associated with gay icons is an outsider status. Cher's hit "Half-Breed" tells one such story of a girl shunned by both her white and Native American heritages. In the clip above she performs the song on a 1973 episode of The Sonny & Cher Comedy Hour.
In addition to television and music, Cher is also an accomplished film actress. She's appeared in Mermaids, The Witches of Eastwick and Burlesque. (She also played a lesbian character opposite the legendary Meryl Streep in Silkwood.) However, it was her turn in Moonstruck that won Cher an Academy Award for her performance.
Cher is one of the top-selling artists of all time. Her No. 1 hits span six consecutive decades and include classics like "Gypsys, Tramps and Thieves," "Dark Lady" and the unforgettable "If I Could Turn Back Time." Her transition to dance music in the late '90s pioneered the use of auto-tune and continued her success with subsequent hits "Strong Enough," "Song For the Lonely" and last year's "Woman's World."
Cher made not one, but two appearances on (the divisive) sitcom Will & Grace. In the clip above, Jack is too busy obsessing over his Cher doll to realize that it's the real deal (and not a drag queen) right behind him.
Cher's son, Chaz Bono, legally changed his name and gender in 2010, becoming an outspoken and prominent transgender activist. While appearing on David Letterman in 2010, Cher discussed Chaz's transition. Sure her pronouns aren't perfect, but she demystified the experience to a broad audience (and displayed some of her signature Cher attitude toward Bill Maher at the end).
Yes, Cher is a gay icon (maybe even the gay icon), but why? What about her story appeals to you? Does she feel as relevant today? Tell us in the comments.