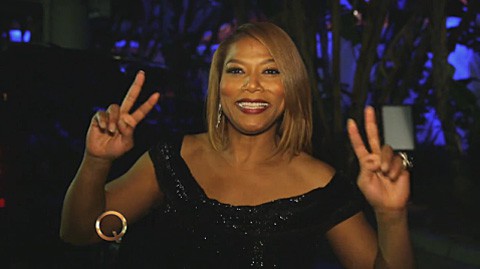 Queen Latifah is taking viewers of her talk show backstage at the Grammy marriage ceremonies before and after she officiated the weddings of 33 gay and straight couples at the awards show on Sunday night.
Watch, AFTER THE JUMP...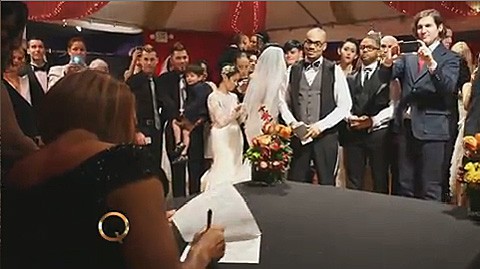 Meanwhile, there is lots of talk this week about Latifah's open closet and her own sexuality — a topic she had to know would come up again around the Grammy segment given its persistence over the years.
Said Latifah in 2008 in an interview with Alex Witchel in the NYT:
"I don't have a problem discussing the topic of somebody being gay, but I do have a problem discussing my personal life. You don't get that part of me. Sorry. We're not discussing it in our meetings, we're not discussing it at Cover Girl. They don't get it, he doesn't get it (she gestured upstairs, toward [her manager and childhood friend Shakim] Compere's office) — nobody gets that. I don't feel like I need to share my personal life, and I don't care if people think I'm gay or not. Assume whatever you want. You do it anyway."
She repeated that sentiment more recently in 2012 with regard to reports that she came out at Long Beach Pride in 2012:
"That definitely wasn't the case," she tells EW. "I've never dealt with the question of my personal life in public. It's just not gonna happen."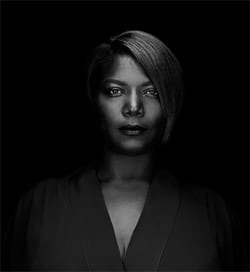 Notes Rich Juzwiak at Gawker:
"Latifah's public profile exists somewhere between gay ally and actual gay...Latifah's public relationship with her sexuality is fascinating. She lives right on the precipice of coming out...Latifah speaks in that kind of code when discussing her sexuality, which there would be no issue with discussing were she straight. She is emphatically hiding something. This makes her, effectively, openly closeted."
John Aravosis at Americablog notes a "furor" at Latifah from some journalists over the fact that she refuses to come out of the closet, adding:
One big problem with Latifah's position is that she's sending a message that there is a problem. She's signaling that there's something wrong with being gay.

People can defend Latifah's choice, claiming that she has a right to privacy. And Latifah can talk all she wants about her desire to protect her "private life." But straight Americans – and particularly celebrities – don't invoke the right to privacy when you simply inquire about the well-being of their spouse. And they don't rail about their "private life" when you ask, "how goes the girlfriend?"....
...The only time celebrities try to hide who they're dating is when it's someone else's spouse, an underage child, an animal, a corpse, or a gay.
What do you think? Was it the height of hypocrisy for a closeted Latifah to be officiating gay weddings and declaring "love is love" as she does in the video below, and yet send a signal by refusing to discuss her own orientation?
Check out her behind-the-scenes video, AFTER THE JUMP...