A surprise birthday party in West Hollywood turns out to be something else entirely.
The couple writes:
What do you do when you want to give your boyfriend the surprise of his life? If you're Lucas, you just have the police shut down a major city street, get Step Up star Briana Evigan and a bunch of other hot dancers to shake their booties, and make sure all of your friends are standing by with cameras and kleenex. No video could possibly capture the magic we all felt that night, but this one sure does a damned good job!
Watch, AFTER THE JUMP...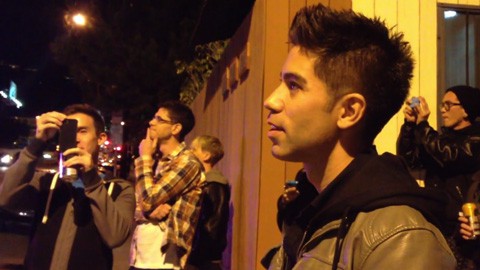 Don't miss our other recent gay wedding and proposal videos...
Gay Wedding Video of the Day: Jonathan and Dwayne [tlrd]
Gay Marriage Flash Mob Proposal of the Day: Patrick and Mike [tlrd]
Gay Marriage Proposal of the Day: Kevin and RJ [tlrd]
Gay Marriage Proposal of the Day: Harry and Lance's '99 Red Balloons' flash mob [tlrd]
Gay Marriage Proposal of the Day: IL Rep. Sam Yingling and Lowell Jaffe [tlrd]