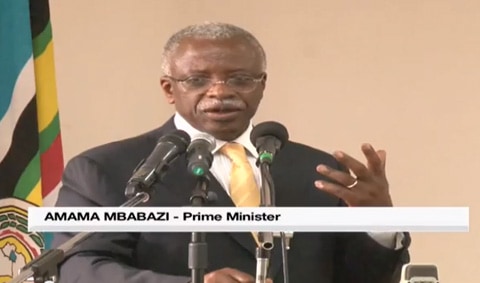 In Uganda, where the anti-homosexuality bill awaits signature from the President, Prime Minister Amama Mbabazi spoke out at the Foreign Affairs Ministry where he was meeting with Ambassadors from foreign missions.
Said Mbabazi:
"I think in our traditions, and this is what I believe. Homosexuality is treated as an abnormality. Given that as a fact, how do we treat abnormalities in our society. Do you kill them? If you identify an abnormality and you say 'let's kill these abnormals', my conclusion is that you are the one that is abnormal....They need help. How do you treat your children who are born as mongols? Do you execute them, imprison them for life?"
Watch, AFTER THE JUMP...
In related news, Al Jazeera has an excellent update on the status of the bill, which has been "amended to remove a clause that would have imposed the death sentence for aggravated homosexuality," and the current atmosphere in Uganda:
President Yoweri Museveni - who may fear the withdrawal of foreign aid if the bill is not amended - could still put pressure on the MPs to remove harsh clauses.

As religious leaders called on him last week to sign the bill, Museveni said a caucus of his ruling National Resistance Movement would review it again. "I like thinking before acting. This is not a simple matter, which I can just rush into. If the MPs bring the bill to me, I will first analyse it … and see how to handle it," the state-owned New Vision newspaper quoted him as saying.

Pressure from donor countries seems to have been working, as Museveni's stance on homosexuality has softened over the years. In the late 1990s, when a group of gay Ugandans said they would stage a protest, he issued a stern warning, hinting that their protest would be disrupted with brute force.