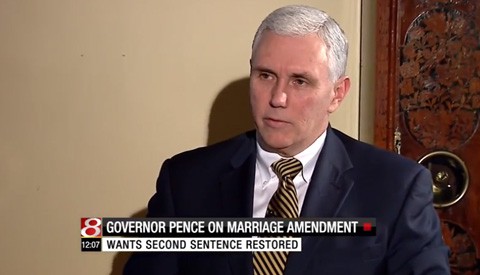 Indiana Governor Mike Pence knows that because a sentence banning civil unions was struck by the House from the language of HJR3 last week, the bill, which would constitutionally ban same-sex marriage, will need to start its process over unless the Senate replaces the sentence. A rewritten amendment would need to pass two separately-elected General Assemblies before going to voters.
So now Pence is speaking to news media pleading with lawmakers to replace the sentence, WISH-TV reports.
Said Pence: "Let me say I support traditional marriage, and I expressed support for the resolution that the legislature passed during the last session and considered at the outset of this session."
Watch, AFTER THE JUMP...
The Senate is expected to consider the bill around February 10.