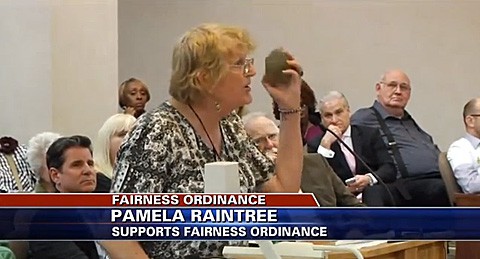 Back in December we reported that Shreveport, Louisiana became the second city in the state to pass an LGBT non-discrimination ordinance. The vote was 6-1 with the dissenting vote cast by Councilman Ron Webb.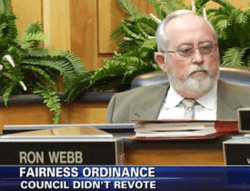 Webb recently introduced a proposal to repeal the ordinance. But that proposal was withdrawn on Tuesday after transwoman Pamela Raintree  showed up at the City Council meeting, quoted Leviticus, and offered Webb a large rock with which he could stone her to death.
Said Raintree:
"Leviticus 20:13 states, 'If a man lie also with mankind as he lieth with a woman, they shall surely put him to death.' I brought the first stone Mr. Webb, in case that your Bible talk isn't just a smoke screen for personal prejudices."
Watch, AFTER THE JUMP...