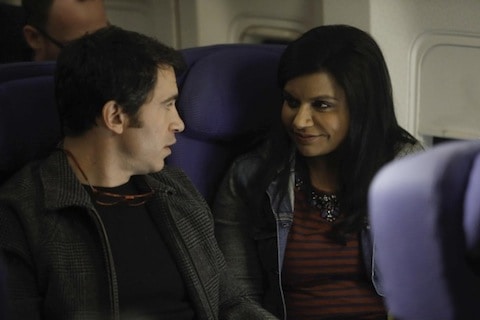 Check out our weekly guide to make sure you're catching the big premieres, crucial episodes and the stuff you won't admit you watch when no one's looking.
— Time to say goodbye to The Mindy Project until April. Mindy Kaling's quirky series heads into hiatus with a doozy of an episode. If you're pulling for her character's relationship with Danny (Chris Messina) don't miss it Tuesday at 9:30 p.m. on Fox.
More picks and clips, including intimate looks at J.D. Salinger and Mitt Romney, AFTER THE JUMP...
— The notoriously reclusive J.D. Salinger is the subject of American Masters' 200th episode, Tuesday at 9 p.m. on PBS. There's an extra 15 minutes in this extended director's cut of Shane Salerno's documentary Salinger.
— Remember when Mark Wahlberg announced he was going to open a burger joint with his brothers called Wahlburgers? If you thought, "If only I could watch them do that," you're in luck! Wahlburgers, which premieres 10:30 p.m. Eastern Wednesday on A&E (reminder: That's short for Arts and Entertainment), follows the Boston-bred bros growing their restaurant venture.
— Fans of female-fronted comedy can get pumped for Comedy Central's new series Broad City. Debuting 10:30 p.m. Eastern Wednesday, the show stars two Upright Citizens Brigade alums, Ilana Glazer and Abbi Jacobson. Fellow UCB-alum Amy Poehler is one of the producers, which is promising.
— Take a look behind Mitt Romney's presidential campaign in the new documentary, titled Mitt, debuting Friday on Netflix. For a guy with a reputation for being robotic, witness him laugh, cry and show other forms of heretofore unseen human emotion. The film follows him from his initial run starting in 2006 through his 2012 loss.