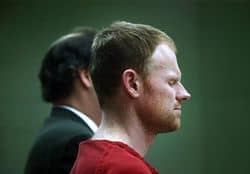 Mitchell Munro Taylor, 32, was arrested last Thursday on charges of cyberstalking and malicious harassment after posting over twenty anti-gay statements on Seattle mayor Ed Murray's Facebook page. The posts threatened violence against not only Murray, but also city council member Kshama Sawant.
The Seattle Times reports:
One post said, "Mayor meet Harvey Milk," a reference to slain San Francisco board of supervisors member Harvey Milk.
Milk, who was openly gay, was murdered in 1978.
Other posts said "death to socialist council member" and "feminists must get raped and die."
…
Murray, when interviewed by police, said he found the comments posted on his Facebook page to be very offensive and considered some to be death threats, according to the probable-cause affidavit filed Friday by Ernsdorff.
While Sawant wasn't named directly in the postings, police believe she was the target because she is the only socialist on the council. Sawant, who was elected to the Seattle City Council in November, told police that "she was concerned for her safety and the safety of her family," the affidavit said.
Taylor's defense attorney, Eric Lindell, reported that Taylor has Asperger's syndrome and had been off of his medications when the posts were made, though just how those facts play in remain unclear. Lindell asked for bail to be set at $10,000, while prosecutor Gary Ernsdorff requested a far more significant sum of $1 million. On Friday, Taylor's bail was set at $600,000 in the King County District Court presided over by Judge Arthur Chapman.
Taylor reportedly has no prior criminal record. 
Photo via Seattle Times.