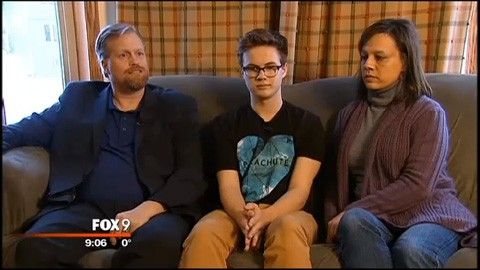 On Wednesday, Towleroad reported that Ryan Eichenauer, a gay student at Centennial High School in Circle Pines, Minnesota was targeted with vicious death threats after he posted a video in which he came out of the closet, to Facebook.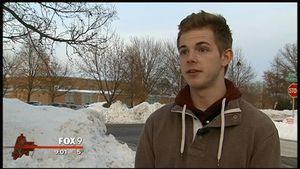 Now, a second student at Centennial has come forward with a similar story, KMSP reports:
In both instances, it begins with a student publicly identifying as gay -- and both were met with backlash by those who would invoke God or religion while expressing their apparent hate. Ratgen and his parents say they were absolutely crushed.

"I just don't understand why we're such a big problem," Ratgen said.

Ratgen came out in late fall, using social media to tell his classmates that he is gay. About a week later, however, Ratgen woke up to find the family driveway in Lino Lakes had been vandalized with a hateful message.

"On the driveway, written in very large letters: 'God hates fags,'" recalled Brad Ratgen, Noah's father. "It was absolutely disgusting. I went and washed it off right away."

The family reported the painful graffiti to police, but no arrests were ever made. Instead, the incident was filed as a hate crime with the Minnesota Bureau of Criminal Apprehension.
Watch KMSP's report, AFTER THE JUMP...