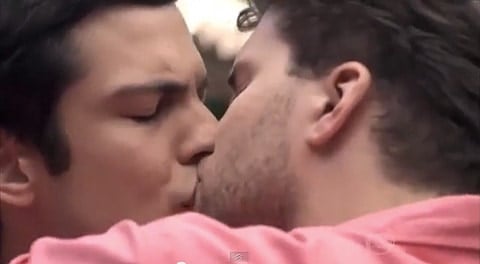 Two men kissed for the first time on Brazilian TV on Friday in Amor à Vida, a soap opera produced by Rede Globo, the country's largest network, as the result of a campaign on social media.
The kiss took place between the show's closeted villain, Felix (Matthew Solano), who redeemed himself in the eyes of the audience and came together with Niko (Thiago Fragoso) after Felix's father suffered a stroke and they decided that their lives would be better together rather than apart.
Back in 2005, hunky soap star Bruno Gagliasso filmed a gay kiss that was supposed to have aired on the popular soap América, but the scene was cut from the broadcast.
Watch Amor à Vida's kiss scene, AFTER THE JUMP...