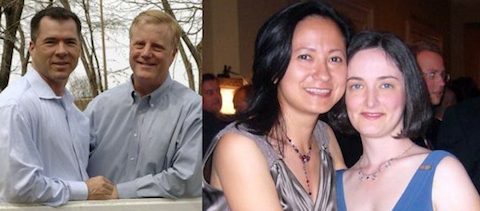 A lawsuit challenging Texas' ban on gay marriage will go before a federal judge in San Antonio for the first time today, the AP reports:
U.S. District Judge Orlando Garcia is expected to decide whether to temporarily block the law, approved by voters in 2005, until a trial can be held in the couples' case. Similar lawsuits have been filed in 22 other states, but the Texas lawsuit is the first of its kind in the region covered by the southern and deeply conservative 5th U.S. Circuit Court of Appeals, where the case will likely end up...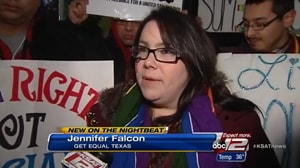 The suit was filed in November. The AP adds:
...Wednesday's hearing combines two cases, one from Mark Phariss and Victor Holmes who filed a federal civil rights lawsuit complaining that Texas' ban unconstitutionally denies them the fundamental right to marry because of their sexual orientation. The other lawsuit was filed by Cleopatra De Leon and Nicole Dimetman, who argue that Texas officials are violating their rights and those of their 2-year-old child by not recognizing their marriage license from Massachusetts.
The hearing begins at 9:30 a.m. Central time at the John H. Wood, Jr. United States Courthouse in San Antonio, and activists on both sides of the issue are expected to attend. Same-sex marriage is legal in 17 states and the District of Colombia, and dozens of similar federal lawsuits are pending across the U.S. But the Texas case, known as De Leon v. Perry, is among the first to go to court in the Deep South.
Texas Attorney General Greg Abbott has vowed to defend the state's ban.
Garcia is a Clinton-appointed judge. We'll see if he follows other judges who have recently ruled that banning same-sex marriage violates the equal protection clause of the 14th amendment.
Lone Star Q adds:
If Garcia grants the injunction, it's likely his decision will be stayed and immediately appealed to the conservative 5th U.S. Circuit Court of Appeals by Republican Attorney General Greg Abbott. Experts say it's unlikely there would be any window for same-sex marriages to occur.
Watch an interview with Phariss and Holmes, and footage of a rally last night in San Antonio, AFTER THE JUMP...