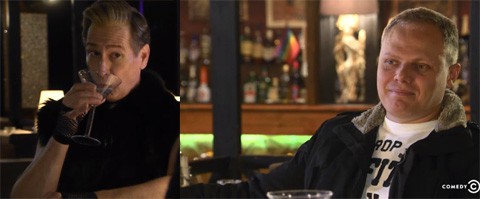 Stephen Colbert's Olympics correspondent Buddy Cole (Scott Thompson) penetrated Sochi's gay underground to pay a visit to Mayak, the city's gay nightclub and have a talk with his owner.
After a brief discussion about Putin's non-traditional relationships with animals and his propensity to bare his nipples in public, Buddy Cole decided he might stay awhile, but chose to cover his own nips up.
Watch, AFTER THE JUMP...
If you missed Cole's previous report on the gay extremist threat to Sochi find it here, and don't miss his visit with the U.S. speedskating team.