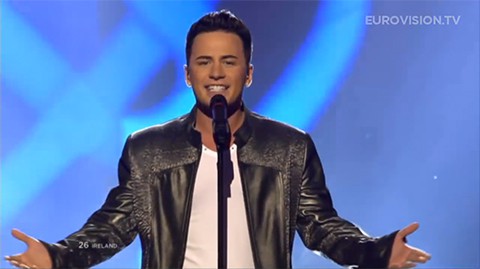 Ryan Dolan, perhaps best known as Ireland's contestant in Eurovision's Song Contest last year (which saw the entrance of a pro-equality song titled 'Marry Me'), came out of the closet in an interview with Ireland's Radio One. As The Independent reports, the singer told radio personality Derek Mooney,  "In school I was confused about who I was, and it was really hard for me growing up because of that. It was hard to deal with because I knew that I was gay, but I couldn't get the courage to talk to someone about it."
Dolan also admits that he contemplated suicide while struggling to come out: "I never attempted suicide, but it was a thought in my mind." 
Perhaps Dolan's biggest fear at the time was what would happen after he came out to his father. When he finally shared his news with his father, Dolan was surprised by the supportive response he received:
"My father was the last person to find out because I was afraid of what he would think. I think he actually took it the better than anyone I told. I couldn't ask for better parents, they've been great to me my whole life.
"My whole life I built it up in my head. The more I thought about it the harder it got. Telling my father was the main thing because me and my father would be very close."
The singer, 28, also reflected on how quickly attitudes have changed towards homosexuality and how he wishes he had come out sooner:
"It's not a big deal anymore. Things have changed compared to even when I was in school. Young people are coming out now at 15 or 16 which would never have happened when I was at school."
"Thinking back now I wish I would have came out about it a long time ago. I think my youth was wasted worrying all the time about it. If I had been more open back then I would have been happier."
Dolan's new single, 'Start Again' is set to be released on March 7. The music video for the song will focus on, "two young boys in school, who know they're gay," according to Dolan.
Watch a video of Dolan, clad in leather and accompanied by a bevy of beefcake, performing at the Eurovision Song Contest with his song, 'Only Love Survives,' AFTER THE JUMP…