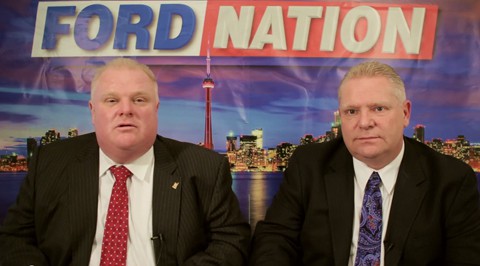 On the second edition of FORD NATION, the online talk show of City Councillor Doug Ford and his brother, crack-smoking Toronto Mayor Rob Ford, the mayor discusses the recent controversy in which he tried to have the Gay Pride flag taken down from City Hall.
The flag was raised next to the Canadian flag in support of LGBT Russians during the Sochi games, as it was at many offices across Canada.
Ford takes offense to a letter from a woman accusing him of being anti-gay:
"I am not homophobic. I'll go to anyone's house, anyone's place to help them out. I take offense when people say that to me. This is Canada. Our Canadian flag should be up there, not the Pride flag."
Doug Ford adds:
"You know how many gay friends we have? People that have worked on our campaign? You may want to try to bully us into things...I think it's good for tourism. But don't try to put a gun to anyone's head that disagrees with you. It doesn't mean that they hate gays....It's just a bunch of bullying, a bunch of bullies coming after you. The gay community feels like they've been bullied and rightfully so because a lot of times they have, Rob. But don't come back and try to bully the people that don't show up and call them homophobic."
Watch, AFTER THE JUMP...