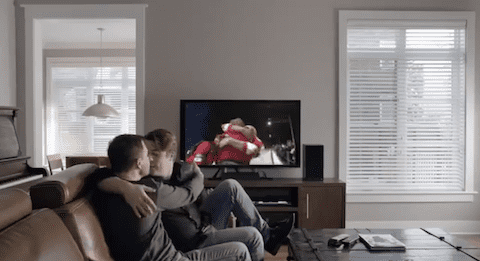 Bell Canada is gearing up for the Olympics and making sure that you know that with their service you can catch every single moment on any device you own in any location at any time. To illustrate this point, the ad jumps from scenario to scenario, from ships to restaurants to a guy on a ski lift to a cozy living room where two men share a celebratory kiss.
Yes, right in the middle of the ad a male couple lean in for what is unambiguously a display of homosexual affection. The shot is brief, but no more so than the majority of other couples and families that the ad cycles through.
The gay kiss comes in at the 0:23 mark, and you can enjoy this little bit of inclusive marketing AFTER THE JUMP...
(via jmg)