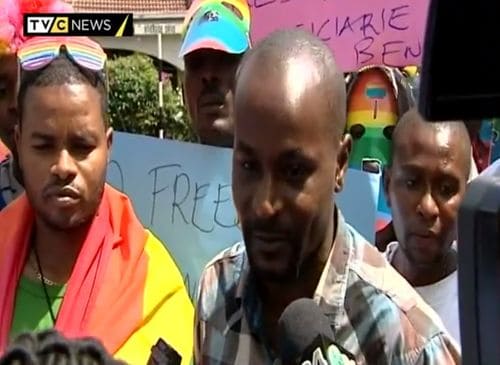 TVC News recently reported from Nairobi, Kenya as gay rights activists gathered outside the Ugandan High Commission to protest that country's terrifying anti-homosexuality bill, recently blocked by President Museveni due to illegal passage through the legislative system. As Towleroad previously reported, the President is awaiting to evaluate 'scientific' evidence that homosexuals become gay, rather than being born that way, before signing off on the bill. The Kenyan protesters took serious issue with this stance.
Wearing rainbow masks, wigs, sunglasses, and the like, the group cited the removal by the World Health Organization of homosexuality from a list of diseases in 1992 as scientific reason enough not to persecute the gay community. There's a great deal at stake, too, as the anti-homosexuality bill proposes life imprisonment for perpetrators of "aggravated homosexuality."
Watch news coverage of the protest, AFTER THE JUMP...