Like other anti-gay activists, Family Research Council leader Tony Perkins isn't too happy with Disney for featuring its first same-sex couple on children's programming.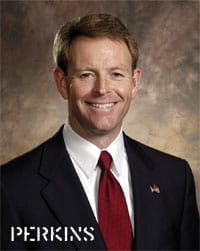 Said Perkins:
After a year of planning, Disney finally made good on its promise, using the show "Good Luck Charlie" to give Taylor two moms. A spokesman says the show "was developed under the [advice] of child development experts..." But if Disney thinks that'll fly with parents, they've spent too much time in Fantasyland. OneMillionMoms is flooding the channel with complaints. Like us, they know what the research says: which is that kids who are deprived of a mom or dad grow up with significantly more emotional and academic problems. So it's a little ironic that the show's called, "Good luck, Charlie." Without a dad, he'll need it. 
RightWingWatch notes for the record that it's Charlie's friend, not Charlie herself, who has the two moms. And Charlie is a girl.
But those are just silly facts, and we all know Perkins doesn't get along with facts. 
Listen, AFTER THE JUMP...