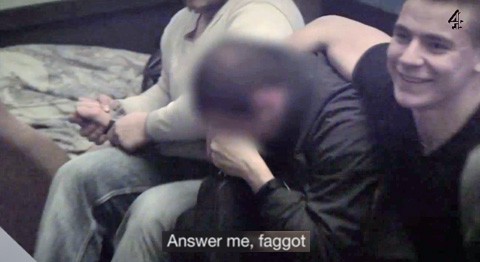 The disgusting torture and harassment of gays in Russia will be revealed to a wider audience this week as Britain's Channel 4 broadcasts Hunted, a documentary exposing the work of anti-gay groups Parents of Russia and Occupy Paedophilia, the Guardian reports:
"We filmed these groups with their knowledge, and what I found shocking afterwards was that only a few asked to have their faces disguised. They all believe they are doing the right thing," said Liz Mackean, the investigative journalist who travelled to Russia to make the film for C4.

"Occupy Paedophilia has groups in more than 30 cities. They operate with impunity and under the cover of the remarks [Vladimir] Putin has made suggesting that children are at risk from homosexuals," Mackean added. The film shows the gangs using the internet to lure potential victims to meetings, before threatening violence to force confessions or humiliating acts. One victim is persuaded to dance and is filmed for the internet.

"Occupy Paedophilia deliberately blurs the lines between paedophilia and homosexuality," said Tom Porter, commissioning editor of the documentary. "During one of the filmed incidents of humiliation, the group asked our cameraman and director, Ben Steele, to stop filming, but he continued partly because he was concerned that if he stopped there would be violence."
Watch Channel 4's promo for the doc which is scheduled to air on Wednesday at 10 pm, AFTER THE JUMP...