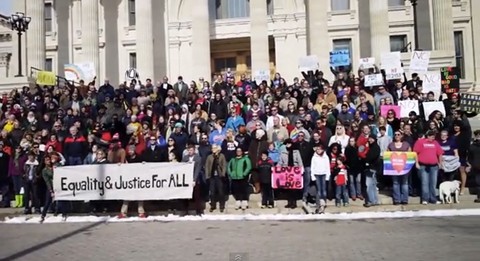 Some 250 people joined in a rally outside the Kansas Statehouse in Topeka yesterday to protest against a proposed bill that would have allowed religious-based discrimination against gays. The Lawrence Journal-World reports:
During Sunday's protest, which was organized by the gay rights advocacy group Equality House of Topeka, participants formed two lines behind signs labeled "Second Class Citizens" and "Straight People." The lines went up the south steps of the Capitol.
"We don't judge others," said Dee Moore, of Topeka. "We think all are God's children."
Jeremy Morgan, also a Topeka resident, said when he first heard about the bill, it frightened him that he and his spouse, who were legally married in Iowa, could be denied services.
"We don't want to be humiliated. We want to be treated like everybody else," Morgan said.
The negative publicity surrounding the Kansas GOP's efforts to legalize discrimination appears to have worked, as several leading Senate Republicans in the state have now blocked the bill in its current form. 
Video of the protest, AFTER THE JUMP...