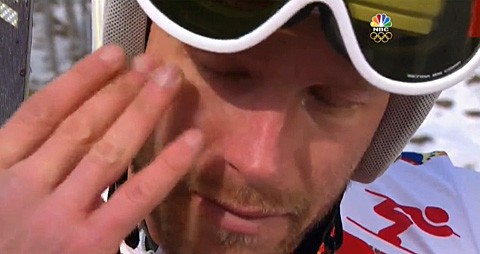 NBC reporter Christin Cooper was hit with a barrage of criticism after a line of questioning to U.S. skier Bode Miller about his brother Chelone, who died of a seizure in April. Cooper's questions seemed to intensify once she saw Miller was getting emotional.
Richard Sandomir of the New York Times said the interview lacked sensitivity, Linda Holmes of NPR called it "disgusting," and a number of viewers voiced their outrage on Twitter.
Miller later tweeted:
"I appreciate everyone sticking up for me. Please be gentle w christin cooper, it was crazy emotional and not all her fault. #heatofthemoment ... My emotions were very raw, she asked the questions that every interviewer would have, pushing is part of it, she wasnt trying to cause pain."
Watch the interview, AFTER THE JUMP...
UPDATE: Miller continued to defend Cooper on the Today show:
"I feel terrible that she's taking the heat for that because it really was just a heat-of-the-moment kind of circumstance,'' Miller said. "I don't think there was any harm intended. It was just a lot of emotion for me. It's been a lot over the past year. You sometimes don't realize how much you can contain that stuff until the dam breaks, and then it's just a real outpouring."