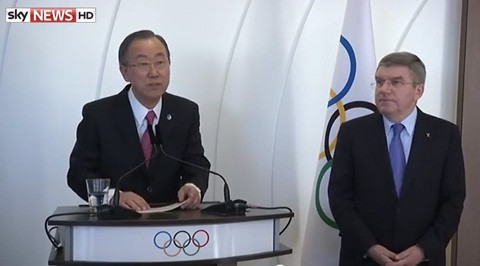 UN Secretary General Ban-Ki Moon gave a speech ahead of the Olympic games in Sochi condemned attacks on LGBTI people worldwide without specifically mentioning Russia's anti-gay law, the Guardian reports: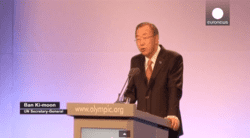 Ban Ki-moon, addressing the IOC before Friday's opening ceremony, highlighted the fact that the theme of the UN's human rights day last December was "sport comes out against homophobia".

"Many professional athletes, gay and straight, are speaking out against prejudice. We must all raise our voices against attacks on lesbian, gay, bisexual, transgender or intersex people," he said. "We must oppose the arrests, imprisonments and discriminatory restrictions they face."

"The United Nations stands strongly behind our own 'free and equal' campaign, and I look forward to working with the IOC, governments and other partners around the world to build societies of equality and tolerance. Hatred of any kind must have no place in the 21st century."
He offered further remarks at a separate press conference with IOC president Thomas Bach.
Watch both clips, AFTER THE JUMP...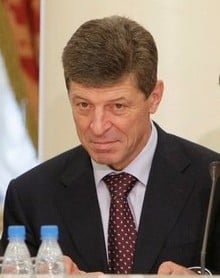 Russian deputy prime minister Dmitry Kozak was later asked for his reaction to the UN secretary general's remarks, USA Today reports:
Kozak was also asked for his reaction to U.N. Secretary General Ban Ki-moon, who blasted any "arrests, imprisonments and discriminatory restrictions" carried out against homosexuals during a speech to the IOC on Thursday morning. The comments were pointed toward Russia's so-called "gay propaganda" law, which has inspired various forms of protest and political blowback leading up to the Games.

Kozak essentially repeated Russian president Vladimir Putin, who said the law only bans propaganda aimed at minors and that gay athletes and visitors won't be arrested in Sochi.

"We don't differentiate between people depending on nationality, religion or sexual relations," Kozak said. "We are all grown-ups and any adult has the right to understand their sexual acts. Please don't touch the kids, that's the only thing."
Watch Ban-Ki's remarks, AFTER THE JUMP...