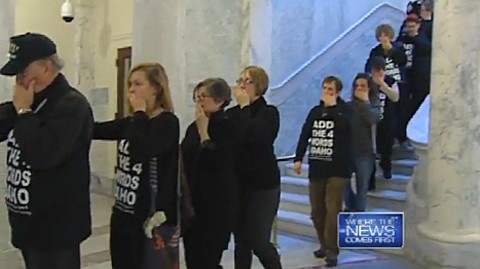 Earlier this month 44 LGBT activists were arrested at Idaho's state capitol after they entered the Senate chamber and demanded inclusion in the state's anti-discrimination laws.
That hasn't slowed them down. Yesterday, at least 65 returned to the capitol and ringed the rotunda, KTVB reports:
Thursday's demonstration didn't include blocking entrances to lawmakers' chambers, the event that precipitated arrests Feb. 3. Idaho State Police troopers who guard the Capitol observed the silent protest -- the demonstrators covered their mouths with their hands -- but didn't intervene.
Watch, AFTER THE JUMP...