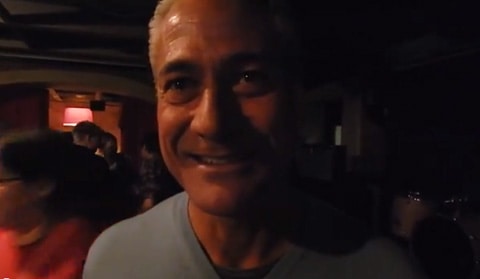 Moscow's Open Games, an LGBT and ally sports festival pointedly fighting back against Russia's anti-gay propaganda laws by inviting all players to openly express their sexual orientation, has had its fair share of difficulties. We previously reported that several sports venues shut their doors to the five-day event, and now a bomb threat, called in just before the opening ceremony, has derailed action further.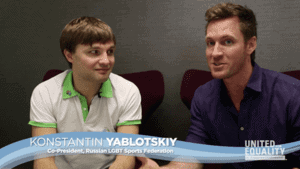 ABC News reports:
"This is nothing new in our community, unfortunately," organizer Konstantin Yablotskiy (inset, left) said. He expected the building to be cleared in time for the ceremony later in the evening...
But the bomb scare forced Yablotskiy and honorary guest Greg Louganis, the American Olympic diving champion, to host a planned kick-off news conference outdoors in the club's parking lot.
"The aim of these games is to send a positive message to our society, to our authorities, that we are normal people," Yablotskiy said.
"I think sports transcends many differences, whether it be political differences, religious differences, or views about LGBT people," Louganis said, noting he was able to relate to Soviet athletes at the height of the Cold War when they competed against each other and hung out together during the 1976 Olympics in Montreal.
"By being here and supporting these games I hope I can shed a little light on [gay life] and share a part of my world of being  gay man living with HIV, but also living a full life and integrated life," he added.
Hopefully the Open Games will not garner any more violent attention from the public, though rising levels of hate crimes after the approval of Russia's anti-gay propaganda laws indicate that the outcome could be less than desirable. We will keep readers posted on any developments.
The games will conclude on Sunday, March 2nd. 
Watch an interview with Louganis at last night's opening, AFTER THE JUMP...