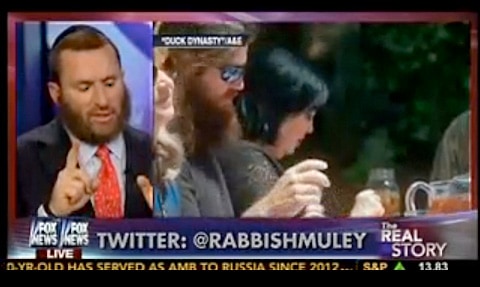 On Fox News' The Real Story, host Gretchen Carlson asked her "faith panel" this past Tuesday to weigh in on the Duck Dynasty family's new church curriculum.
One of the panelists, Rabbi Shmuley Boteach, took the opportunity to instead address the homophobic comments of the family patriarch Phil Robertson with an astonishingly blunt condemnation. Said the rabbi:
They've done tremendous damage to religion. We have to stop making religion in America about bashing gays. They have to just forswear that stupid comment about comparing homosexuality to bestiality. See, the problem in America is that we overlook all the heterosexual guys who are raping women 1 in 5 on the campus[...]Bashing gays is not religion. What is religion is family dinners and combating the divorce rate. 
You can watch this refreshing dose of reality from an unexpected source
AFTER THE JUMP...