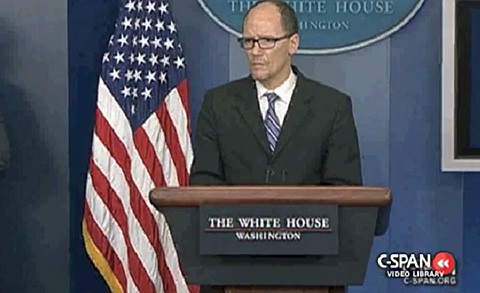 In a surprise appearance in front of the White House Press Corps. yesterday, Labor Secretary Thomas Perez was asked by Chris Johnson at the Washington Blade if an executive order protecting LGBT workers from discrimination and gender identity is something his department could implement.
Said Perez:
Well, I can't get into what-ifs. I'm certainly aware of the executive order that was proposed that you're talking about. And the President takes a backseat to no one in his commitment for equal access to opportunity for people regardless of race, religion, sexual orientation or gender identity. And it's an issue that we continue to contemplate and work on.
Later, White House Press Secretary insisted that the EO was a hypothetical but was corrected by a Reuters reporter in light of Perez's comments that no, it's clearly not a hypothetical.
Carney replied:
I think broadly speaking, the administration looks at all opportunities to advance an agenda that expands opportunity, that levels the playing field, that sustains equal opportunity for all that is part of the President's vision. That's as a broad matter. On specific — would the President do this executive action or that executive action, I mean, that list could be endless, and I don't have any update for you on that kind of proposition.
Watch the exchanges, AFTER THE JUMP...