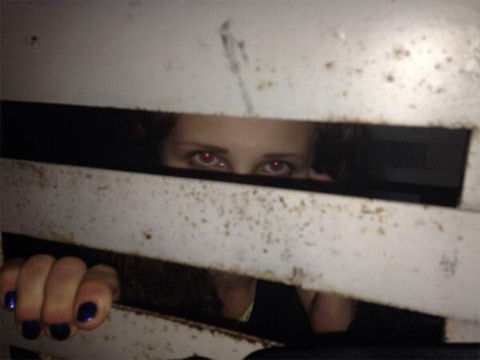 Nadezhda Tolokonnikova Maria Alyokhina, two members of Pussy Riot who were recently in the U.S. (you saw them here for their hilarious appearance on The Colbert Report) were detained by police while walking around Sochi, they said via Twitter, accused of an unspecified crime.
Photos taken by Tolokonnikova (above and below) from the police van were posted to Twitter. "Masha Alekhine, and I another participant Pussy Riot go to the police department," says one.
The NYT reports:
In a series of messages on Twitter, Ms. Tolokonnikova said that the two women had been also been detained on Sunday and Monday. On Monday, she said they were held by the Federal Security Service, known as the F.S.B.

"On the 16th we were detained for seven hours," she wrote. "On the 17th, we spent 10 hours with the F.S.B. and today we are in a police wagon, accused of theft."

Ms. Tolokonnikova wrote that they had come to Sochi intended to carry out a protest.

"We are in Sochi to hold a Pussy Riot action," she wrote. "The song is called, 'Putin Will Teach You to Love the Motherland." However, she said they had not yet carried out any protest and were merely walking in Sochi when they were stopped by the authorities on Tuesday.
Eight people altogether were arrested with the women as they walked to the Sochi seaport, a local activist reported.
Watch a Euronews report on the detention, AFTER THE JUMP...
The arrests come just a day after trans Italian activist and former MP Vladimir Luxuria was harassed and detained for a second time after she appeared at the Olympic village in a rainbow outfit. Luxuria was scheduled to be escorted to the airport and asked to leave today, according to Italian media.
The Sochi authorities seem very eager to suppress anyone they think might engage in political protest within sight of the Olympic village.